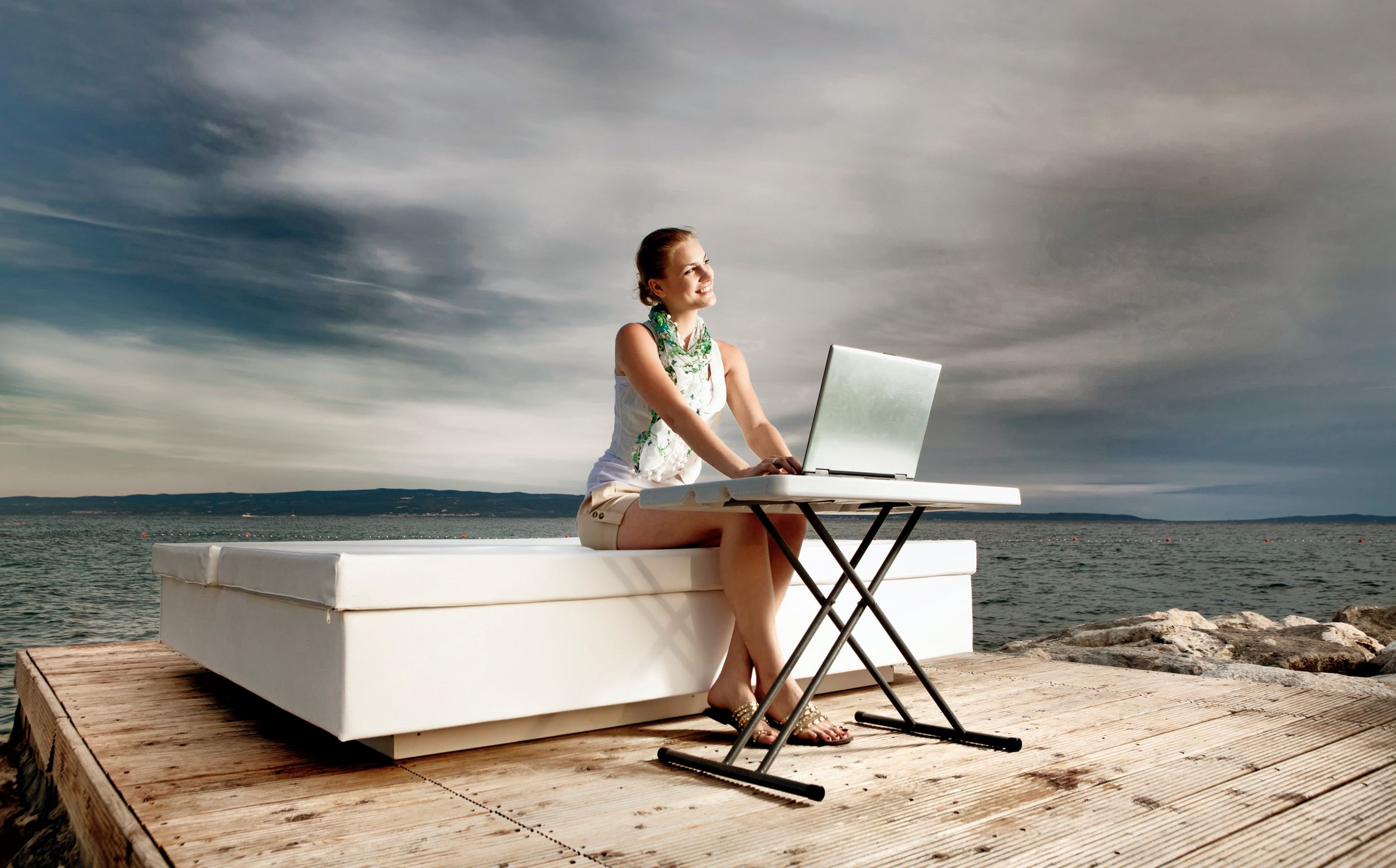 13 Best Email Marketing and Newsletter Apps

You probably send and receive emails every day using an app like Gmail or Outlook. Those tools work great for sending one-off messages to individuals and groups—and if you abuse the BCC field, you might be able to send an email to 100 people without annoying everyone. But for larger groups and scheduled sends, you'll need another option—something that makes it as easy to send an email to everyone as it is to send a message to one person.
That's where email newsletter apps come in. They're the tools that power the bulk emails you receive every day, and they're a great way to share news, announce new promotions, or send out an annual email update to all of your friends and family. Every app lets you organize your contacts into lists, add new contacts easily via a signup form or integrations with other apps, send beautifully formatted messages in a half- dozen clicks, and analyze how your email performed. Plus, we found mobile apps that send messages on the go, tools to manage your events, and integrations to import your customers.
So without further ado, here are the best apps that send email newsletters (ordered alphabetically). For each app you'll find a brief summary, and pricing information.
1. ActiveCampaign

Emails that are just about the latest happenings at your company can get boring. To really capture your customers' attention, you should write emails that are focused on their interests. ActiveCampaign makes it possible by including a full CRM and marketing automation suite along with its email newsletter tool. It'll help you gather detailed info about each of your customers, then divide them into lists based on interests, locations, and more.

Then, unlike most CRM apps that let you send emails, Active-Campign includes a full- featured email editor. You can drag-anddrop email elements, design them the way you want, and quickly send your finished newsletters off to your customers. And if you also need to manage sales prospects, you can upgrade to ActiveCampaign's Plus or Enterprise plans to unlock useful features beyond email marketing.

ActiveCampaign Pricing: From $9/month for email marketing to up to 500 contacts; from $49/month for full email marketing and CRM suite

2. AWeber
An email list is nothing without subscribers. You have customers and people who are interested in your products, so AWeber focuses on making sure those people will get added to your email lists. It natively integrates with WordPress, PayPal and Facebook so you can add people from the places where they already interact with your company. AWeber also lets you create advanced subscriber forms with up to 25 fields and import contacts from a variety of list formats. Once your lists are built, it has the tools you need to make your emails look great, putting hundreds of free templates and stock photos at your disposal.
AWeber Pricing: From $19/month for unlimited emails to up to 500 contacts

3. Benchmark Email
Email needs to look great everywhere. Benchmark Email aims to make this easy in two ways: with an internationalized app that's easy to use anywhere, and email templates that look great on mobile and desktop.

Benchmark's cleanly designed email editor lets you pick from a variety of layouts for your text and multimedia components, then accents them with color schemes for emails that look beautiful everywhere—not just on a large desktop monitor. It lets you store your images and videos in the app to easily reuse them in future messages. Then, the entire app's interface is equally at home in English, Chinese, Spanish, and more, and its team works with the standard email sending coalitions as well as China's ICP to make sure your emails will be delivered everywhere. It's an email app for global teams.

Benchmark Pricing: Free for sending up to 14k emails to 2,000 contacts; plans from $9.95/month for sending up to 600 emails

4. Campaign Monitor
Your emails need to stand out, and using a tweaked standard email template likely won't be enough. That's why Campaign Monitor tries to make it as easy as possible to code your own email templates, then gives you the tools to customize standard email templates far beyond the basics.

There's a drag-and-drop email template editor with pre-made templates that show you variants of the templates that other teams are using to inspire you to make it your own. Or, you can hand-code your own template using Campaign Monitor's simple email code snippets, and host your CSS and assets on Campaign Monitor's server. And if you run a design agency, it even lets you make your own templates, white-label the app and resale it to your clients with your own custom designs.

Campaign Monitor Pricing: From $9/month for sending up to 2,500 emails to 500 contacts

5. Constant Contact
If you run a brick-and-mortar business, you're likely sending emails about your events, discounts, and more. Constant Contact is an email app that's also great at managing all of those other things you do, so you can create events and promotions, send them out to your existing contacts, and gather new contacts—all from one app.

Constant Contact's EventSpot tool lets you schedule your upcoming events, create a registration page, and spread the word via email and social networks. Then, its Social Campaigns tool helps you create coupons or downloadable resources for social networks to gain new follows and keep your existing followers excited about your products. Tying it all together is Constant Contact's email tools that'll let you share these events and more with your contacts and easily add new subscribers to your lists whenever you run an event or promotion.

Constant Contact Pricing: From $15/month for up to 500 subscribers; 60 day free trial

6. EmailDirect
Every email app has a list of your contacts, and many let you filter your contacts and sort them into specific lists and more. EmailDirect takes it a bit further by letting you interact with your entire contact list as a relational database. You can use it to store anything you want about your contacts, then slice-and-dice them up into the lists that make the most sense for them.

To give the database as much info as you need, you can use EmailDirect's API to tie it into your eCommerce store, or you can list your own products directly in EmailDirect and track which ones customers have purchased. You can then make as many lists as you need, and let subscribers manage which email lists they receive. That way, they don't have to unsubscribe from all of your emails—they just can quit receiving emails about the products they're not interested in.

EmailDirect Pricing: From $40/month for sending up to 2,000 emails

7. FreshMail
Picture a nicely designed email in your mind, and it likely includes—at most—a small header photo at the top, a background color, and formatted text and images below that. At best, most emails look like nice blog posts. And that's good. But if you want more, FreshMail's templates can make your emails look like beautiful product demo pages, complete with full-sized images, beautiful Google Fonts-powered text, and detailed layouts that go far beyond your standard email.

Creating your own design from FreshMail's templates is easy, with rich content blocks that you can drag-and-drop into the editor, and a simple editing screen that lets you change the style of your text headers and body. Then, you can add your content and send it to your contacts with all the standard email sending features you'd expect from any other app.

FreshMail Pricing: Free for sending up to 2,000 emails to 500 contacts; from $17/month for unlimited emails to 1,000 contacts.

8. GetResponse
Ever wondered how your emails look on smartphones? With GetResponse, you won't have to send your email to your phone to find out. Its email designer lets you preview how your message will look on computers and phones while you're laying out your design and adding in your text.

Then, you can add more to your emails with GetResponse, as well. It'll let you import images from Flickr, Facebook, and iStock, sell products directly in your emails with PayPal buttons, and even bring in text from previous emails with its snippets feature. Then, you can schedule your emails in advance by dragging them to the correct date on a calendar. And if you're promoting your products online, GetResponse has you covered with tools to import contacts from Facebook forms and Twitter ads.

GetResponse Pricing: From $15/month for unlimited emails to 1,000 contacts

9. iContact Your business likely already uses a number of apps to manage your contacts, get interest in your new products, and more. iContact's designed to make it easy to add those contacts to your email lists and automatically get new contacts subscribed. It's deeply integrated with everything from Salesforce to Drupal so it can import contacts and use their data to segment your lists.

Beyond sending emails, iContact also includes social networking tools so you can draft and schedule Twitter and Facebook status updates right alongside your email updates. iContact can even help you get started, with design services to make a custom email template for your brand and advisory services to help you setup your email campaigns and get the most out of your marketing efforts.

iContact Pricing: From $10/month for up to 250 contacts

10.MailChimp
MailChimp may be the first email newsletter app you think of it you spend any time listening to podcasts—or have ever seen any of its monkey-themed shirts and hats. But beyond the swag, MailChimp is an app that's serious about helping you send better emails. You'll find everything here from a drag-and-drop email editor to rich subscriber profiles that track your contacts' interactions with your emails, and more.

The best part is the extra apps and tools that come along with MailChimp. There are nine mobile apps that come along with MailChimp, letting you do everything from send emails and check your stats to sending email newsletters based on pictures you snapped on your phone and signing up new contacts to your lists from a tablet. You'll also come to love its smarts that'll automatically find the best time to send your emails based on its data from everyone else's campaigns, and recommend smart lists from your contacts based on other email newsletters they're subscribed to.

MailChimp Pricing: Free for sending 12,000 emails to 2,000 contacts; from $10/month for unlimited emails to 500 contacts

11.Mailigen
Email's important, but so is mobile messaging. If anything, mobile messaging may be more important today than email. After all, your phone's always with you, and while you might ignore your email, you're unlikely to turn off your SMS notifications. So Mailigen lets you combine your email and mobile marketing, so you can target your audience wherever they're most likely to check their messages.

On the email side, you'll have all the features you'd expect, with a familiar, Office-style editor that makes it easy for anyone on your team to edit your email campaigns. Then, you can further your email marketing by sending out SMS messages with your latest announcements and deals, with all the same tools to gather contacts and segment them into lists that you're already using with your emails.

Mailigen Pricing: From $10/month for up to 500 contacts

12.Mailjet
If you're looking for a service to send emails directly from your app's code, Mailjet's a transactional email service that's ready to deliver as many emails as you need. But if you'd rather something simpler, with an interface to lay out your emails and manage your contacts, Mailjet's ready for you as well.

In addition to its send API, Mailjet includes a graphical template designer where you can customize its built-in themes and use them to send email newsletters to your customers. There's deep list segmentation built-in, along with A/X tests with up to 10 versions to test anything about your marketing that you want. You can have it automatically send your app's notification emails, then use the graphical editor to simply update your users about your news and more, all from one service.

Mailjet Pricing: Free for sending up to 6,000 email per month; from $7.49/month for sending up to 30,000 emails

13.MailUp
There are plenty of email apps that'll work great for small lists, but what if you're sending millions of emails a month to tens of thousands of recipients? MailUp is an email app designed exactly for that. It's priced to make sending millions of emails affordable —as long as you're not in a rush to send your messages. You'll select how many messages you need to send each month, then choose how soon your emails need to be sent—the slower, the cheaper. That'll way, you can send millions of messages a month without breaking the bank.

And, of course, there's a rich email editor, tools to organize your contacts, and even SMS and social network marketing to reach your audience on the go. It's an email app designed to send your marketing messages even to the largest audiences.

MailUp Pricing: From $49/month for up to 1,641,600 emails per month to unlimited contacts

Conclusion
From simple ways to send email updates to advanced marketing tools that'll manage your contacts, automate marketing, and send email updates, there's email newsletter apps of all shapes and sizes. Hopefully this list has helped you find a few that look like they'll work for your business. Give them a try, then pick the one that ends up fitting your needs the best and start sending the email updates you've been waiting for.